Happy Monday friends! It's that time of year... Christmas present buying time. This is the week that I will get most of my Christmas shopping done, because shipping takes a little longer during the holiday season and I want to make sure that everything gets here before we take off to Alabama for the holidays!
If you're still trying to figure out some Christmas gifts for family or friends, I have a great option to share with you guys.
Where she got it: sweater: h&m // jeans: target // shoes: forever 21 // necklace: c/o
waffles & honey
This arrowhead necklace was sent to me by an amazing company based in San Francisco called
Waffles & Honey
. You guys, the quality of their jewelry is amazing! It is all handmade using 14 karat gold & semiprecious stones. I'm genuinely in love with their jewelry and want to share a little holiday gift guide for you all!
For the classic girl:
These pieces are all simple but stunning! Perfect for a girl with classic style (or a safe option if you're not sure what their style is!)
For the trend setter:
These necklaces are so gorgeous and really make a statement. The raw cut stones are very on trend right now and will be perfect for the girl who likes to be in style!
The best part is that all of the necklaces layer super well (and personally I love the layered necklace look). Waffles & Honey also carries rings and earrings and I'm actually a little obsessed with their stacking rings.
And if you need another incentive to check out their site, Waffles & Honey is offering 15% off to all you readers! I'm not gonna lie, I'll probably be picking up a few pieces with the coupon... maybe for myself, maybe for some gifts! Just use the code Janelle15 at checkout to get the discount.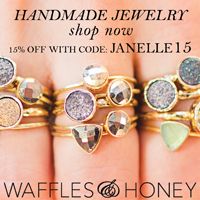 Have a lovely Monday!
linking up with: funday monday, monday bloom, monday mingle, fashionably modest, my style monday, style sessions, love it link it, trend spin, totally posted tuesday, all things thursday, tres chic fashion thursday, three-fur thursday