Some days I like to dress a little more girly than usual.
Where she got it: top: forever 21 // skirt: downeast (old) // tights: target // shoes: old navy // purse: kate spade
I got these adorable ankle strap flats on Cyber Monday and I sort of built my outfit around them. I do that whenever I have a piece of clothing or an accessory that I'm DYING to wear!
I cannot believe that Christmas is this week! Today will be filled with packing, laundry, a little last minute shopping (I know, me and everyone else!), and otherwise getting ready to head to the South tomorrow! I'll let you know how the trip goes for my VERY active one year old.
Because I'll be out of town (and because of CHRISTMAS!) I'll be posting a little less this next week. If you want to keep up with me, feel free to follow along on
instagram
(@j_inreallife).
I hope you all have such a great time with family and doing whatever it is you do to celebrate this wonderful holiday! One of our favorite traditions is to read Luke II from the bible (the story of Jesus' birth) on Christmas Eve. Since we'll be flying on Christmas Eve this year, we may just have to do that on the plane ;) If you're interested in reading the story, you can find it
here
! I truly hope you all have a blessed holiday.
And today is the very last day to enter the Great Big Holiday Giveaway! Click below to enter: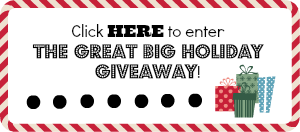 linking up with: funday monday, monday must haves, monday morning gossip